Last week Will and I went on holiday to New York City. I thought I'd share a series of posts about our big adventure!

As I was a first-time flyer and this was my first holiday outside of Europe and without my family, I was really nervous before I left. I Googled everything a hundred times and found so much comfort in reading everyone's posts about their trips so that I could get an idea of what to expect from mine. So here's a little insight into the flights and hotel experience!

---
We flew from London Heathrow Airport where it was really quiet and there were people everywhere waiting to help. Checking in, checking our luggage and going through security was quick and easy and took around 20 minutes. We ended up spending 2 hours in the terminal but there was free Internet to keep us entertained while I freaked out about flying.

Strictly speaking, I have been on a plane before. But I was 4 years old and asleep. The only thing I remember is getting off the plane and finding myself in Menorca in the sunshine! (I don't think that really counts)

20 years on, I was terrified. But I took my motion sickness pills and a deep breath, I got on that plane – and I loved it!!!

We travelled Economy with Virgin Atlantic, leaving the UK at 4.30pm (GMT) and landing in JFK Airport at around 8.30pm (EST). I have notoriously bad ears so I wasn't surprised that no amount of Haribo could save my hearing. I felt like my ears were stuffed with cotton wool for the first hour of the journey and again for 3 hours after landing and my ears continued to pop for the entire week. But despite the pain of the popping, I didn't have a lot of time to think about it! 30 minutes into our journey the cabin crew were bringing us pretzels and giving us menus to tell us what was on offer for the rest of the journey. Plus we had loads of movies and tv shows to keep us entertained all evening which is one of my favourite ways to spend my time!

London to New York
The food and drinks were all included in the price of our flights. The Menu for this journey was a pesto pasta starter, cheese and tomato pasta bake or curry or sausages and mash for main with a mini bottle of wine or drink of your choice. Plus water and a little Gu chocolate pudding. After dinner, they gave us tea and coffee. An hour or so before landing, they gave us mozzarella, tomato, pesto and rocket roll with a scone, clotted cream and jam (again with tea and coffee). They kept us well fed and constantly brought round a drinks trolley so we didn't even need to get food or drinks when we landed because we were both well and truely full!
Welcome to New York
After landing, getting through JFK took around half an hour. The airport was quiet but it was our first time travelling to the US with ESTAs so we had to queue up and have our fingerprints scanned before collecting our luggage. We went through arrivals and queued at a little station by the exit where a member of staff gets everyone into taxis and sends you on your way. There are cheaper ways of getting into the city but we were tired and it was around 9pm by then so it was worth the flat rate of $70 to get to the hotel. The driver was quiet and didn't speak much but we were at the hotel within 20 minutes.

The Hotel
We stayed in a standard bedroom at Club Quarters Hotel Grand Central (known as Hotel Boutique at Grand Central at the time of booking). It's a 4-star rated hotel next to the Chrysler building and Grand Central Station. Checking in took under a minute, the person in the lobby took our card details in case of damages and gave us a key card for our room and left us to it. We were staying on the 21st floor where it was really quiet and you couldn't hear much noise from the city below. We had a corner room so it was larger than we expected, we had free, fast wifi, a tv, coffee maker and those much-loved hotel mini toiletries that turn everyone into Ross from Friends!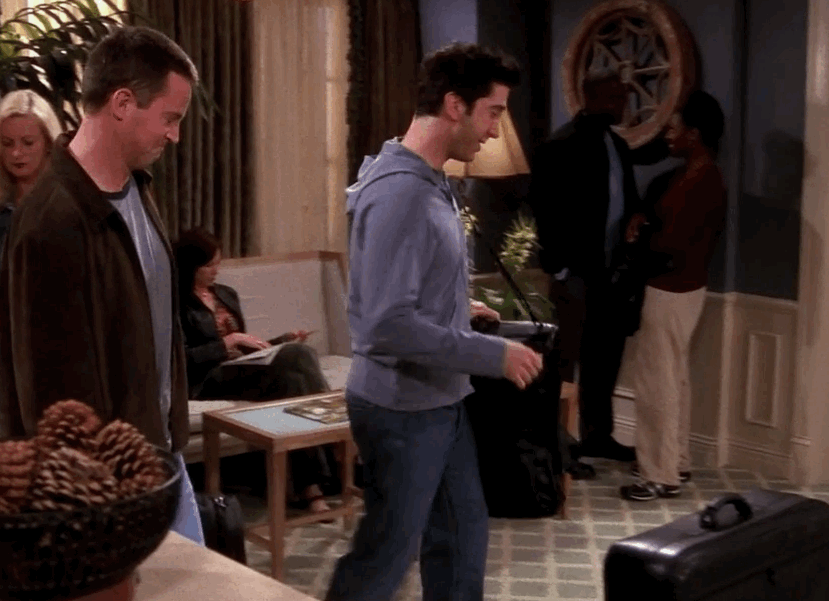 There were also extras like a yoga mat, hairdryer, iron and ironing board – you had everything you needed so we never found ourselves needing anything from the front desk. There was a gym in the hotel and a floor where you could go for free snacks and Happy Hour but we were rarely around to use any of that. In general, the hotel was very casual, both staff and the guests were friendly but never chatty and everyone would just come and go. It was nothing fancy but it was just what we needed.


On the (not-so) Downside
In general, our hotel was exactly what we needed. Nothing fancy but a spacious room, good shower and a comfy bed to come back to at the end of each day's adventures. But it wasn't without its faults.

There was one issue midweek when the fire alarm went off at midnight and we were jetlagged so it messed with our sleep. It only went off for 30 seconds and they told us to "stand by" over the intercom and left it at that. Luckily a couple on our floor had gone down to the lobby and let us know it was a false alarm and it never happened again so life went on as normal.
On check out, we received a receipt for our room. We'd been charged the Facilit Fee and Taxes which we had expected but we had been charged a LOT (Over $600) for TV and internet despite being told it would be free. We asked a man at the front desk about it and he promised to sort us a refund. After a few days in the UK, we hadn't received the refund but it only took a few emails to get it sorted and they even refunded us the facility fees as an apology so it was a happy ending to a stressful ordeal. Just be sure to check your receipts before you go home and question anything that doesn't look right to you. It's worth it!
Homeward-Bound
We'd had a great holiday but after the stress of the refund, we were ready to go home to our quiet flat in our quiet town. We had plenty of time to get to the airport so we used the subway and travelled to Jamaica station in Queens where we then got the AirTrain to our terminal at JFK. We used the unlimited 7 Day Metrocards we had been using all week to get the subway and bought a $5 card to get the AirTrain so it only cost us $5 each. We rode the subway a lot during the trip so this was quick and easy and the AirTrain was empty, spacious and fast. We were at JFK in around 40 minutes. We were far too early but it turned out to be a blessing in disguise!

JFK was an adventure in itself. It was very busy and there was no order anywhere. Checking in and checking our bags took longer than Heathrow but less than 20 minutes. But getting through TSA took almost an hour. Most of that was waiting around in one of many queues that no one, not even the staff, seemed to understand. Everyone (even the staff) was having a meltdown over the chaos and disorder and begging to go home. But it's okay because we had turned up far too early.

Our flight home was at 8pm (EST) and was so much faster than our flight to New York. We flew with Virgin Atlantic who, again, provided us with a meal; pasta or meatballs and mash, followed by cheese and crackers and a mini pudding pot. They loaded us up with teas and coffees, let us watch our films and turned down the lights until 6am (GMT) when they bought round a breakfast bar, yoghurt and drinks to wake us up. I didn't enjoy the food on the way home nearly as much and everything was a bit rushed but it is hard to care when you're as tired as we were.

The second time around, I wasn't anxious at all with takeoff or landing. I even managed to persuade myself all the turbulence was like being on a bumpy ride at Disneyland! We landed at 7.35am and were through arrivals in 10 minutes. We literally slept for the next 2 days and nights with no regrets. It was good to be home in our quiet little town!

---
Well done for sitting through that little ramble. I just know how helpful I found these posts when it was coming up to my turn to travel!

I promise to share lots more photos of our adventures in the city over the next couple of posts!

Shannon x



First-Timer's Itinerary
How we planned what to do each day
Sightseeing with a CityPass
We bought our passes before we got there
Adventures on a Budget
Things we got up to that didn't require spending a lot of money
A First-Timer's Guide
What I discovered, what I loved and what I didn't about the whole experience!