Blogmas is nearly over, guys! Today I decided to share my top 10 favourite Christmas episodes…

The Mindy Project – Christmas Party Sex Trap (2013)


Mindy plans the ultimate Christmas party / man-trap to entice a lawyer from their building.
Pretty Little Liars – How The 'A' Stole Christmas (2014)


A takes a break for the holidays!
Orange is the New Black – Can't Fix Crazy (2013)


The inmates stage a Christmas pageant and it is spectacular.
The Big Bang Theory – The Bath Item Gift Hypothesis (2008)

Sheldon struggles to find an appropriate Christmas gift for Penny and her gift to him was far better than she could have imagined.
My Family – Ho Ho No (2007)
*Couldn't find a gif for this one, sorry! Decided to give up and watch Love Actually instead*
Susan treats Ben to a Christmas hotel break supposedly just for the two of them, but she has secretly invited the family.
Friends – The One With The Holiday Armadillo (2000)


Ross wants to teach his son, Ben, about Hanukkah.
New Girl – Santa (2012)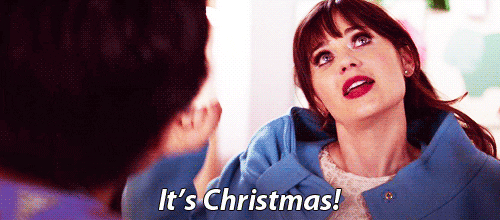 The gang tries to attend a lot of Christmas parties in one night.
Brooklyn Nine-Nine – Yippie Kayak (2015)


Jake, Charles and Gina get into trouble while doing last-minute Christmas shopping.
How I Met Your Mother – How Lily Stole Christmas (2006)


Lily takes away her Christmas display after she finds out that Ted called her a bad name.
That 70's Show – The Best Christmas Ever (1998)


Eric cuts down a tree for free and uses the Christmas Tree money Red gave him for a party instead.
What are your favourite Christmas episodes?