I have seen the Autumn Book Tag going around for a little while and kept thinking to myself "I WILL do this!" but didn't actually make the time to do it. So thank you to the lovely Syc from one of my favourite blogs, The Lit Mermaid, for tagging me and motivating me to finally answer these questions!
What is your favorite thing about autumn?
I love the Summer, but my favourite thing about Autumn is it is finally cold enough to snuggle up in cozy pajamas, under a warm blanket with a cup of tea and a movie/book. I also love how colourful everything looks. It doesn't last long, but it is beautiful!
What book reminds you of your school days?
A book that reminds me of my school days is The Bed and Breakfast Star by Jacqueline Wilson. I loved all of her books, but I remember loving this one and reading it more than once.
What cover reminds you of autumn?
A cover that reminds me of autumn is this Harper Collins hardback cover of The Hobbit by J.R.R. Tolkien. Mainly because of the colours and the leaves.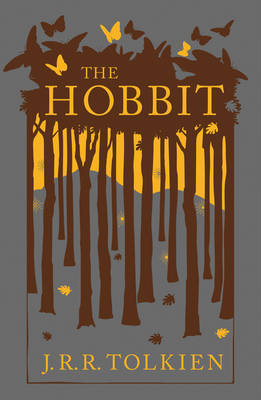 What is your favorite horror or Halloween story?
I
am not a big fan of the horror genre because I don't really enjoy scary things. I recently read a thriller called Black Ice by Becca Fitzpatrick and it's not really a horror but it is definitely pretty scary and I'd definitely say it is a favourite of mine.
I am also a big fan of The Walking Dead graphic novels (and the show and the games. I am addicted.) These are definitely a great horror
story.
What is your favorite horror or Halloween film
I don't enjoy horror movies, but my favourite Halloween-y films are The Addams Family films (I LOVE that freaky family) and Frankenweenie because I am a big kid.
What fall book release are you looking forward to?
The fall book release that I was most looking forward to was Carry On by Rainbow Rowell. It was released last week, my boyfriend bought be a copy yesterday and I am super excited to start reading it.
What autumn movie release are you most anticipating?
The Autumn movie release that I am most anticipating is The Hunger Games: Mockingjay part 2. My birthday is in November and when I was younger I always went to see Harry Potter at the cinema for my birthday. Then those movies finished *starts crying* and Twilight and The Hunger Games started taking its place as my birthday movie franchise. I don't know what I am going to do next year…
What are three books you plan to read this autumn?
Three books I plan to read this Autumn are Carry On by Rainbow Rowell, I'll Give You The Sun by Jandy Nelson and A Thousand Nights by E.K. Johnston.

Thank you for reading my answers! I am not going to nominate anyone but if you have taken the time to read this, why not have a go at answering these questions yourself?